Take advantage of an almost limitless variety of surface options to implement your design ideas 100%. With profile systems from VEKA, you can choose from several surfaces beyond the classic white, which clearly differ in the respective colour palette as well as in the material. This way, you can set noble accents or a powerful statement just as you like - just as the perfect design demands.
Our VEKA SPECTRAL design surface opens up exclusive possibilities for you when designing with coloured windows. The multi-layer structure with an electron beam-hardened, embossed lacquer layer is already revolutionary. It gives VEKA SPECTRAL an ultra-matt look, velvety feel and also proven high durability. Last but not least: VEKA SPECTRAL is easily recyclable - just like VEKA window and door profiles.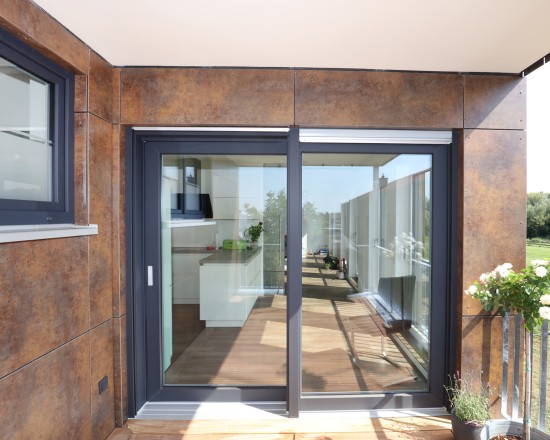 Windows laminated with coloured foil are a popular stylistic device for setting special accents and giving buildings an individual character. Attractive contrasts, such as anthracite-coloured windows in a white facade, can significantly enhance the appearance of even older buildings. A tone-in-tone design, which creates large areas with a filigree structure, also has a very noble effect. With VEKA's uniquely broad colour and decor program, you can effortlessly achieve any desired effect.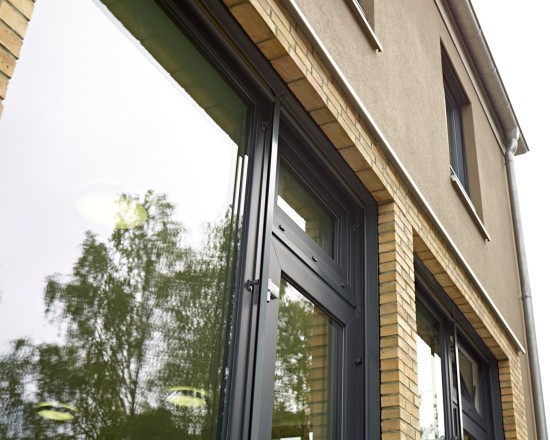 Aluminium cover profiles open up additional possibilities for the design of windows and doors. The profiles can be anodized or powder-coated in all RAL colors. Placed on the outside of the frame and sash profile, they combine the high-quality metal look of aluminium with the technical advantages of PVC-U.