QUALITY. RELIABILITY. SAFETY.
Quality always comes first at VEKA. Because we have consistently implemented this quality promise since our founding in 1969, VEKA has been able to develop into the global market leader for PVC-U profile systems in a unique success story.

From the very beginning, we have had the ambition to always give our best for the success of our partners. Not only with first-class products, ideas and services, but also by being particularly close to our customers. Because only in this way are we always able to know what our partners really need and to develop solutions for a successful future. The only way to achieve this is through our unconditional commitment to the highest quality in all areas. And we will continue along this path with courage and passion.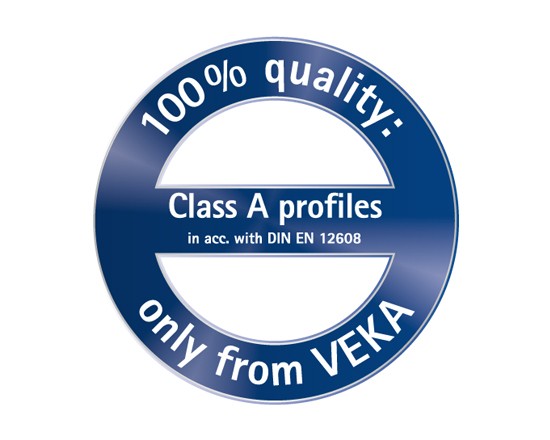 VEKA quality, which is valued worldwide, encompasses many aspects that go beyond profile technology. All these facets are expressed by our seven quality stars. Each individual star stands for a characteristic of our company, our products or services. But these qualities do not only describe our thoughts and actions. They also point the way to the future. They show where we want to go and provide orientation for our partners. Because there is one thing you can rely on at VEKA today and in the future: top quality in all areas.







First-class
Products, service and partnership at the highest level - this is how we define our quality standards. High-quality class A profile systems in accordance withDIN EN 12608 for optimum window solutions that retain their function and value for a long time make the decisive difference

Future-proof
Our current and all future strategies, products and services are always geared towards one goal: to remain a high-performance systems provider that offers security and orientation

InnovativeVEKA
Initiates new developments and drives decisive technologies forward and is thus an innovation driver for the entire industry, e.g. with the novel surface finishing technology VEKA SPECTRAL

Intelligent
The window as a networked building element and decisive interface in future-oriented living concepts: no longer a vision for us, but reality. With our subsidiaries TEXINO or DBS, we are actively shaping smart home concepts and the digitalization of an entire industry - for intelligent home technology and faster, more stable and more cost-efficient processes in window construction.

Sustainable
With VEKA environmental technology, we have been implementing a proven recycling concept for over 25 years. This is complemented by consistently energy- and resource-saving processes in production and procurement. Thus, VEKA is a pioneer in sustainability and the circular economy demanded by politics.

Reliable
VEKA attaches great importance to cooperation in a spirit of partnership and long-term, stable business relationships. Due to our proximity to partners and suppliers, all parties involved always know what they can expect from the other.

Family
VEKA is and remains family-run. In Germany, VEKA is among the top 500 most successful family-owned companies - both a confirmation and an obligation for future generations.
For us, sustainability means using all resources responsibly so that they will still be available to our grandchildren. Learn more about sustainability and corporate social responsibility at VEKA here: