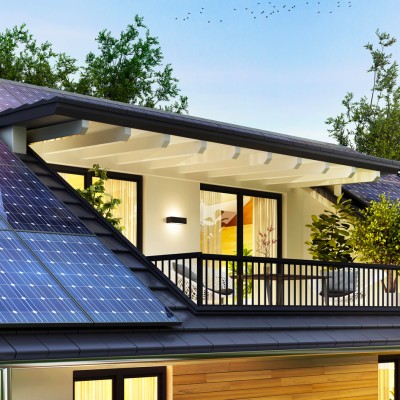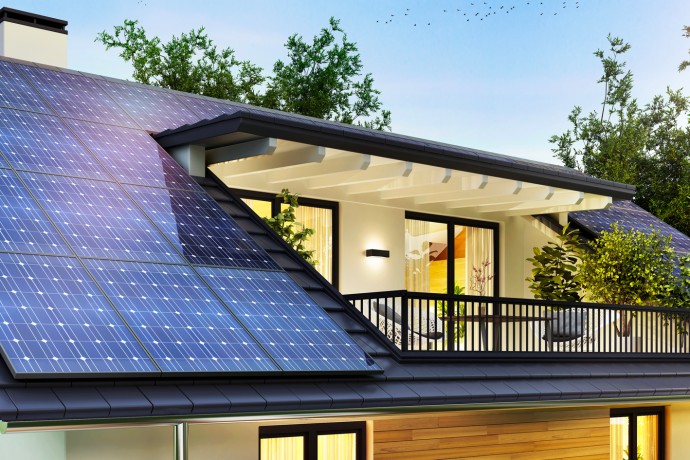 Windows for sustainable building and modernisation
In new construction and modernization, sustainability is an essential aspect today. The windows are particularly important. In addition to their outstanding thermal insulation, modern PVC-U windows score points for their energy- and material-saving production. In addition, after decades of use, they can be practically completely recycled and used for the production of new windows. Their sustainability is thus once again significantly increased.
Sustainability means: permanently viable

The entire usage cycle is important

Resource-saving production of windows

Saving energy with modern windows

Recycling closes the cycle
Sustainability means: permanently viable
Sustainability has become an important topic that affects all areas of life and business. The new construction and renovation of buildings or homes are no exception. On the contrary, experts emphasize the importance of sustainable construction in protecting the climate and natural resources. The available figures support this view. According to these, around 38 percent of global CO emissions are currently2 attributable to the building sector; for Germany, the share is 14 percent.
The entire life cycle is important
Sustainability in the building sector therefore means that the use of a residential building, for example, consumes as few resources as possible and emits as few climate-damaging gases as possible. The cost of building the house must also be taken into account, as must the production of the various building materials and components. And the sustainability balance sheet is only really complete when the fate of the building and its components after demolition is taken into account. The example of the window as one of the most important building elements is a good illustration of this holistic approach.
Resource-saving production of windows
The heart of a window is the window profile. In the case of plastic windows, it consists of the polymer PVC, which in turn is made from petroleum and rock salt. Thanks to modern PVC recycling, however, new PVC can increasingly be dispensed with and recycled material from old windows can be used instead - and without any loss of quality. At VEKA, the share of this sustainable recycled material in profile production is already 26 percent.
Even beyond that, a lot can be done for sustainability in the production of the window profile, the technically demanding profile extrusion. For example, VEKA uses rainwater at its headquarters in Sendenhorst, Westphalia, to cool the machines and freshly extruded profiles. The water then flows through the company's own wetland biotope for clarification and is then used again as cooling water. Every year, this resource-saving cycle saves a good 136 million litres of water.
Company-wide initiatives have also halved electricity consumption at VEKA since 2005. This is primarily thanks to committed employees who are constantly identifying new efficiency potential, but also to the large-scale equipping of the hall roofs with photovoltaic systems.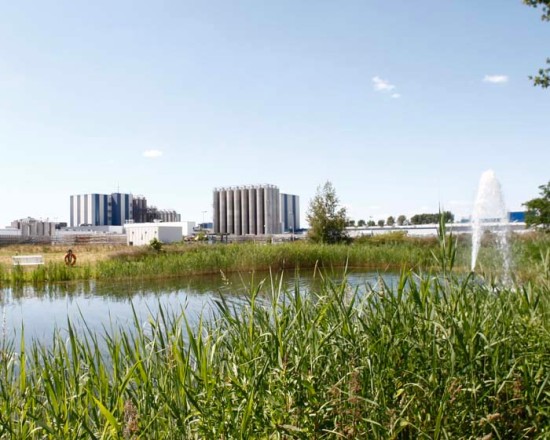 Saving energy with modern windows
Buildings are a key factor on the road to sustainability, and here again especially the windows. A comparison makes this very clear: In old buildings, simple windows were responsible for almost half of the heat energy losses, although they only make up about one tenth of the building envelope. Modern windows reduce the unwanted outflow of valuable heat to a fraction - and thus also save money.
Large windows are also worthwhile for another reason. By letting more sunlight into the building, the rooms are not only brighter, but also warmer. South-facing windows in particular therefore bring considerable energy savings in the cold season. And because windows can be shaded by roller blinds or roller shutters if necessary, it is also very easy to prevent them from getting too warm.
Recycling closes the cycle
Having served well for decades, an old window is still valuable. Windows made of all frame materials - wood, PVC-U, aluminium - can be recycled and almost completely reused. In addition to the heat-insulating, energy-saving effect over the long service life, this is one of the most important aspects for the sustainability of a window.
As a recycling pioneer, VEKA demonstrated how well the recycling of worn-out plastic windows and doors works as early as 1993 in Behringen, Thuringia. Today, the Group operates three modern, largely automated recycling plants throughout Europe - in addition to the plant in Thuringia, one each in France and Great Britain.
In total, 100,000 tonnes of windows, doors, roller shutters and PVC production residues can be processed annually in the three plants. At the end of the recycling process, there is pure PVC in the form of granulate, which can be used directly in the production of new PVC-U profiles for windows and doors, as well as other products.
In addition to this recyclate, metals, glass and sealing rubber are also recovered - these materials can in turn be recycled. The entire PVC-U window can be almost completely recycled in this way: The material cycle closes and the production of new PVC-U windows becomes all the more resource-friendly.