Windows come in an enormous variety of shapes, sizes, materials and colours - hardly any building element is so varied. What all windows have in common is that they have a window frame and a sash, which in turn is composed of window profiles. The properties of the window profiles therefore shape the window: its appearance and operability, its thermal and sound insulation, its resistance to burglary attempts and, last but not least, its durability. How good a window is therefore always depends on the quality of the window profiles.
This is how a window profile is constructed

Keyword construction depth

This is what a window profile must do

Window profiles can be made of different materials

World leader: profile systems from VEKA
This is how a window profile is constructed
From window profiles cut to the desired length and sometimes bent into a round shape, window fabricators assemble the window frame. In fact, most windows have even two frames: The glazing is inserted into the sash. This, in turn, is movably inserted into the frame, which is connected to the building structure. Only in the case of so-called fixed glazing, the glass sits directly in the frame.
In a sense, window profiles form the supporting framework for the heavy window pane and for the other elements, such as the hardware used for opening and locking. However, unlike a picture frame that holds a painting, for example, they perform other functions, which we will look at in a little more detail below. By the way, the design principles presented here also apply to most types of patio and front doors.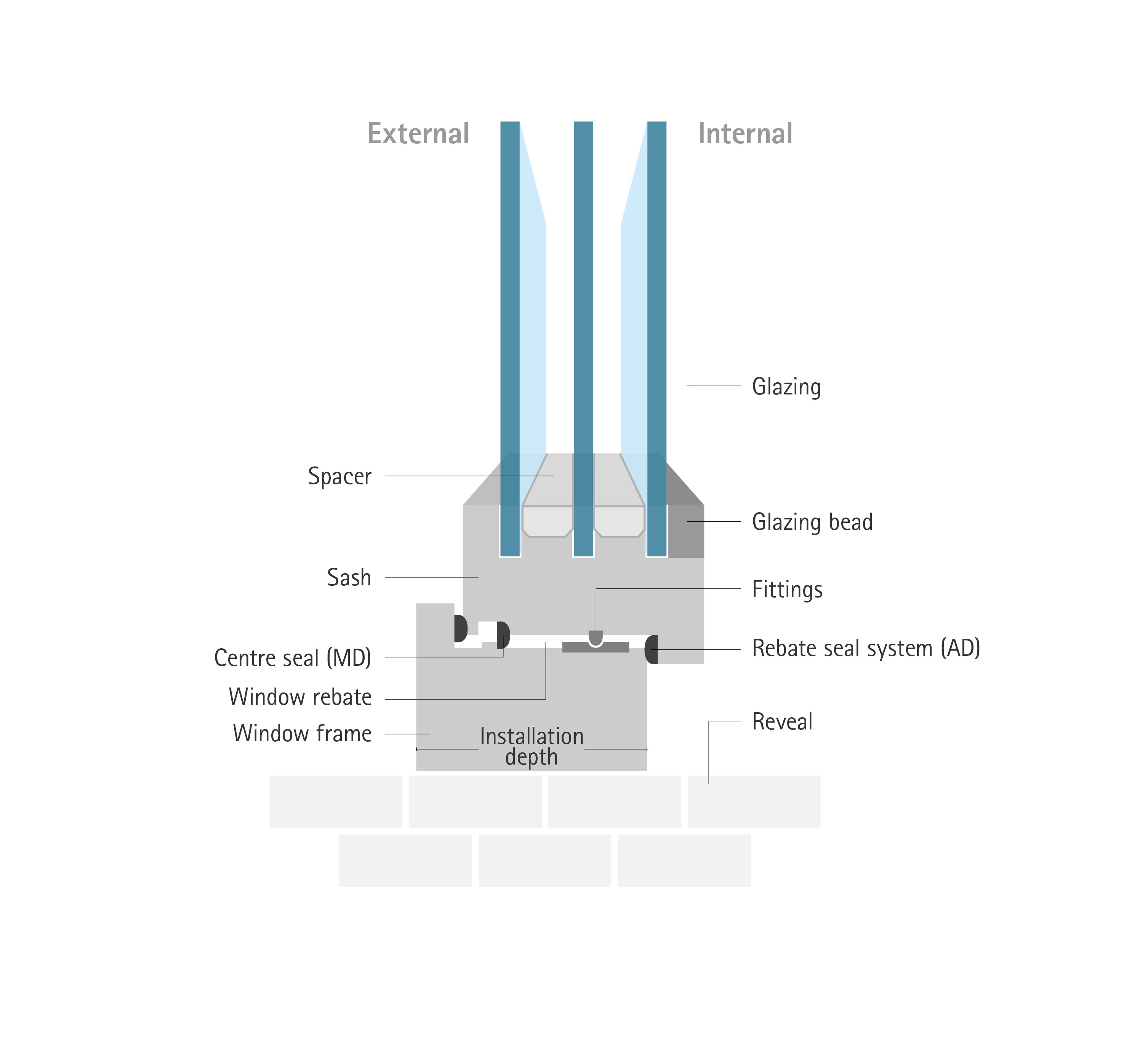 Infographic shows a simplified window cross-section with the elements labeled:
Keyword construction depth
An important feature of window profiles is the construction depth. It is measured from the outside to the inside of the profile and specified in millimeters. In the SOFTLINE 82 profile system from VEKA, for example, the profile measures 82 mm in cross-section. As a rule of thumb, a higher construction depth brings more performance, for example in terms of thermal insulation. As is so often the case, however, it all comes down to the details. Particularly in the case of renovation, it is also important to consider how much space the building structure offers for the installation of new windows.
This is what a window profile must do
Modern windows perform a variety of important functions. Letting light and, if necessary, fresh air into the house are just two of them. How well a window can fulfill the sometimes very different requirements depends not least on the window profiles as an essential construction element.
Stability
Whereas the glazing of a window often consisted of a single pane of glass in the past, multiple glazing with a correspondingly high weight is used today. In order to reliably support such heavy glass over decades, window profiles must offer a high degree of dimensional stability - in midsummer as well as in freezing temperatures.
Functional reliability
In addition, the stability of the window profile makes a decisive contribution to the functional reliability of the window. If the window frame warps noticeably, the worst case scenario can be that the window sash jams. A particularly stable window profile is therefore the best guarantor for windows that convince with effortless comfort of use over decades.
Thermal insulation
As soon as the outside temperature drops below the room temperature, heat inevitably escapes from the building. Therefore, a window profile must provide effective thermal insulation to minimize the loss of precious heating energy. This is where the material properties come into play, but especially the type of profile construction. Modern window profiles made of PVC-U have several air-filled chambers that effectively slow down the flow of heat. This means more comfort and considerable savings in heating costs.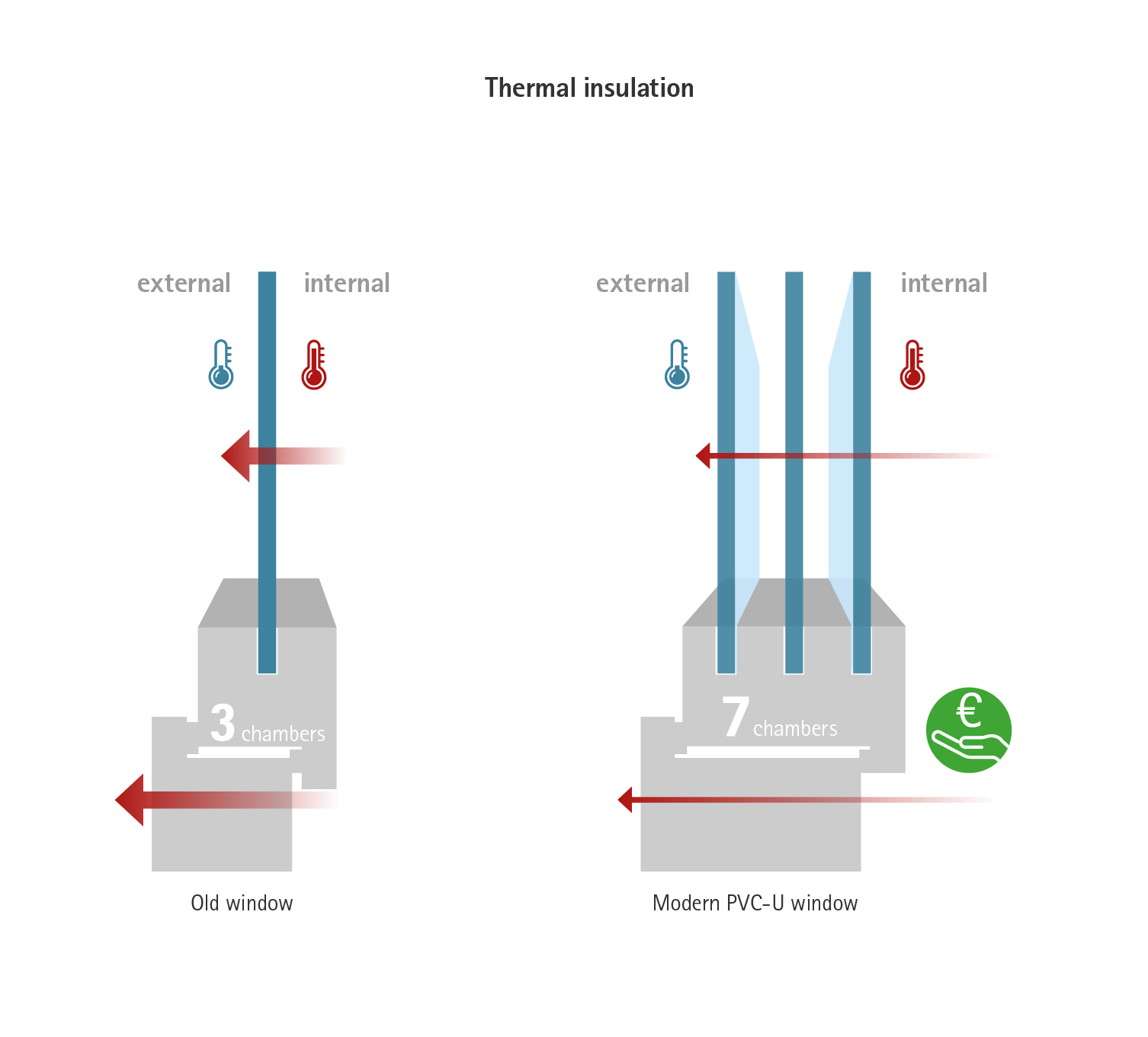 Infographic showing the difference in heat flow through an obsolete and a modern window, each with single or multiple glazing and single-chamber or multi-chamber profile; labeling.
Sound insulation
The comfort of living and working in a building depends largely on the noise level. Especially in areas with high traffic volumes or in the vicinity of industrial plants, it is therefore important to have windows with good sound insulation properties. This is where modern window profiles score points, as their design - for example, several air-filled chambers - means that sound can only pass from the outside to the inside if they are heavily insulated.
Burglar resistanceWhere
material and ideal values are preserved, the need for protection and security grows. Windows are a typical target for burglars, so it is all the more important to resist uninvited visitors for as long as possible. Window profiles with high mechanical strength can make an important contribution to this. Class A window profiles from VEKA, for example, with their particularly strong walls, enable mushroom head pivots, hinges and other fittings to be firmly anchored.
Durably beautiful and easy to cleanA
high-quality window provides lasting pleasure - through its technical advantages, but also through a beautiful appearance. Therefore, it is good if the window profiles are particularly easy to clean. Cleaning with lukewarm water and a soft cloth is usually sufficient for this. You can learn everything about the proper cleaning, care and maintenance of plastic windows in a separate article [Link: Article Infocenter 05 Care and Maintenance].
Window profiles can be made of different materials
Window frames today are made of four materials: Steel, wood, aluminium and PVC-U. Steel windows are practically only used in basements and industrial halls. In residential and office buildings, on the other hand, windows made of the other three materials are found almost exclusively. These have captured different market shares due to their respective advantages and disadvantages.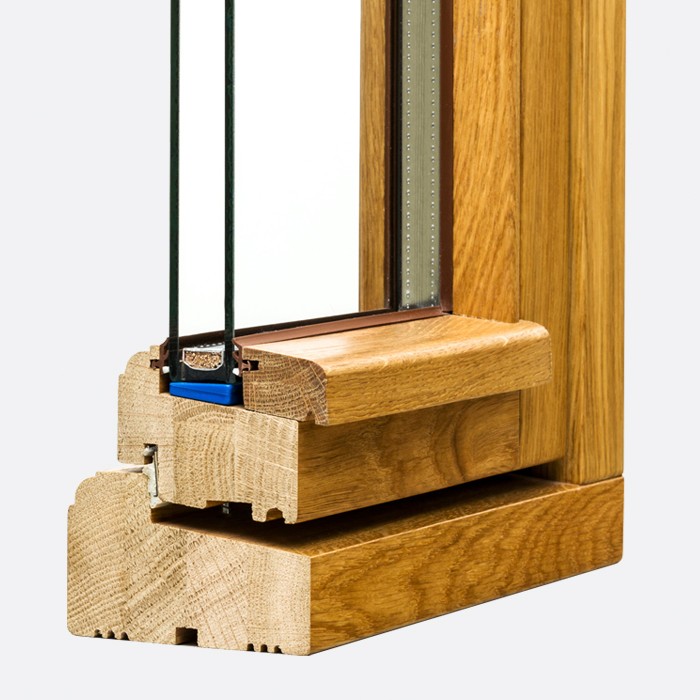 Natural look, high maintenance
Wood is probably the oldest material for the production of window profiles. Even today, wooden windows are valued for their natural look. Since wood is also a poor conductor of heat, good insulation values can be achieved here. On the other hand, it is highly sensitive to rain and other environmental influences, which makes it necessary to regularly repaint wooden window profiles or provide them with aluminium weather bars.
Market share of wooden windows in Germany: approx. 15 percent
World leader: profile systems from VEKA
Thus, the window profile has a decisive influence on almost all features and functions of a window. Window profile manufacturers offer various profile systems so that architects and window fabricators can fulfil the wishes of each builder as well as possible. These systems differ not only in design features such as the construction depth, the number of chambers in the profile or the sealing system, but also in appearance. This principle is well illustrated by the particularly diverse range offered by the world market leader VEKA.
Do you have any questions?
If you have any questions about "windows and doors", please feel free to send us an e-mail. Or contact your local VEKA fabricator partner directly - they will be happy to advise you in detail at the designated showroom!