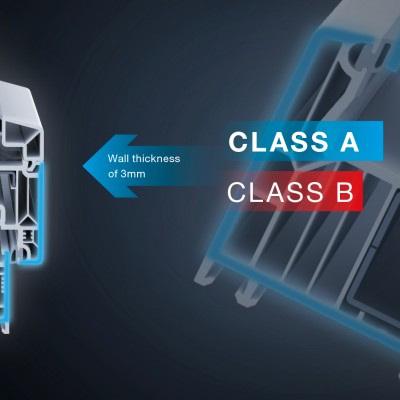 Quality for performance and durability
Windows influence the characteristics of a building in many ways. Factors such as thermal insulation and living comfort, but also the possibilities in architectural design, depend on the performance of the profile system - and thus ultimately on the quality of the window profile. High profile quality also enables smooth manufacturing and installation. VEKA produces only quality profiles with high Class A wall thicknesses that offer measurably better performance. To ensure this outstanding quality, VEKA controls the entire production chain more strictly and more closely than required.
Windows are high performance building elements

The window profile is the subject of numerous standards

The wall thickness makes the difference

Class A profiles offer measurably more performance

More profile performance means better quality




VEKA quality gives security
Windows are high performance building elements
Allowing daylight and, if necessary, fresh air into the building: these were the essential functions of the first glazed windows. Today, the requirements are much more extensive and diverse. Building owners expect effective thermal insulation and lasting protection - against wind and weather, drafts, ambient noise and, last but not least, burglary. Of course, the windows should also be beautiful and offer a high level of operating comfort.
Beyond the wishes of the building owner, there are additional, specific requirements in architecture and window production. Architects and planners, for example, appreciate the wide range of design options offered by high-quality profile systems. Window manufacturers, on the other hand, attach particular importance to stable, highly compatible profiles that allow economical production and smooth installation. With all the different focuses, it must of course also be possible to implement the specifications in laws and other regulations without any problems.
The window profile is the subject of numerous standards
The question of what constitutes a quality profile could therefore lead to somewhat different answers, depending on the perspective chosen. A more objective, neutral perspective is provided by the extensive body of standards. A wealth of national and European standards regulates in detail what properties windows and doors, or the profiles and glazing from which these construction elements are made, must have. In addition, the test methods to be used in each case are also precisely specified.
The DIN EN 12608 standard is of particular importance for windows and doors made of plastic profiles. This European standard deals with the technical requirements for profiles made of unplasticized PVC, the respective test methods and also the classification of the profiles.
The wall thickness makes the difference
In a separate section, DIN EN 12608 describes the classification of the main profiles according to the thickness of the outer walls, especially at the visible surfaces and in the rebate or connection area. It is the interaction of these vertical and horizontal walls that essentially determines the mechanical stability of a profile - and thus its dimensional stability under load and serviceability.
According to the minimum thickness of the outer walls, the standard distinguishes three classes. No requirements are imposed on class C window profiles. To achieve class B, the walls of the visible surfaces must be 2.5 mm and the walls in the rebate or connection area must be 2.0 mm or more. The highest requirements apply to class A profiles. The visible surfaces must have a wall thickness of at least 2.8 mm, and the outer surfaces in the rebate or connection area must have a thickness of at least 2.5 mm.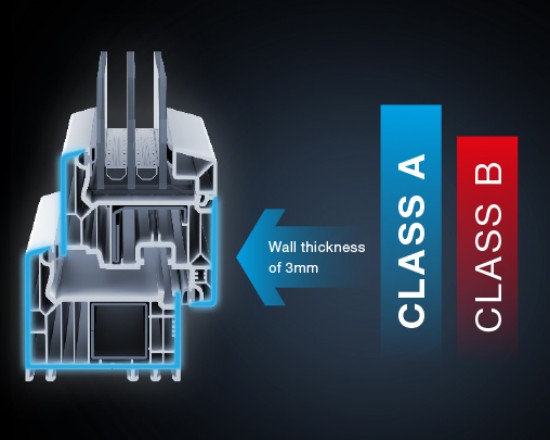 Class A profiles offer measurably more performance
VEKA window and door profiles have outer wall thicknesses of 3.0 mm on the visible surfaces and 2.7 mm in the rebate or connection area (tolerance 0.2 mm in each case). According to DIN EN 12608, these are therefore profile systems of the highest class. What's more: In Germany, VEKA is even the only manufacturer that exclusively produces Class A plastic profile systems. In order to reliably achieve these particularly high wall thicknesses, VEKA uses around 14% more material in profile production than would be sufficient for lower class B profiles.
The fact that the higher wall thickness of class A profiles actually results in higher performance is proven by extensive measurements. The series of tests in material testing at VEKA showed that windows made of class A profiles have 15-20 % higher corner strength compared to those made of class B profiles. Dimensional stability is also greater, as shown by 10-12% less deflection under load. Also measured was the force required to pull bolts out of the profile: this is up to 20% greater for Class A profiles than for less strong-walled Class B profiles.
More profile performance means better quality
How should these results be interpreted from the point of view of the groups of people mentioned at the beginning? The building owners and users benefit directly from the fact that window frames made of class A profiles can better support heavy functional glazing without noticeable deformation. They therefore experience the best room comfort and lasting first-class ease of use, even with large-area elements. The high dimensional stability also means reliable tightness even under high wind loads. And in conjunction with tighter-fitting screw connections, the effort required for forced entry also increases - and with it burglar resistance.
Class A profiles also open up particularly wide design scope for architects. This is because the high stability, even with small face widths, enables designs with generous glass surfaces with low frame proportions for rooms flooded with light. The technical advantages of the high-quality profiles are complemented by the unique diversity of VEKA's color and decor program. With class A profiles from VEKA, the possibilities for aesthetic design are therefore almost unlimited.
The high Class A quality also brings several advantages for window manufacturers. They can offer their customers particularly high-performance windows and doors and also benefit from clean, reliable processing. The stronger, more stable profile walls ensure less distortion during processing, resulting in higher dimensional accuracy and clean sawing surfaces. When welding, the greater wall thicknesses also mean more contact area for particularly stable joints. And finally, the tighter screw connections ensure a reliable fit of all fittings in the long term.
VEKA quality provides safety
Class A profile systems from VEKA, with their particularly high wall thickness, are the ideal basis for sophisticated designs and for economical window production. This also explains why VEKA, as the world's leading system provider, consistently adheres to outstanding quality. It is not an end in itself, but a clear performance promise.
Compliance with this promise is guaranteed by a system of quality controls that goes far beyond the usual industry standards. The first checks take place as soon as the various raw materials are delivered and extend from this point through the entire further production chain. The technically demanding extrusion process in particular is closely monitored - from exact compliance with the process parameters to the dimensional accuracy of the extruded profiles. All these checks are more stringent, take place at shorter intervals and at more measuring points than required by the quality assurance system. The quality of VEKA profiles can therefore be absolutely relied upon.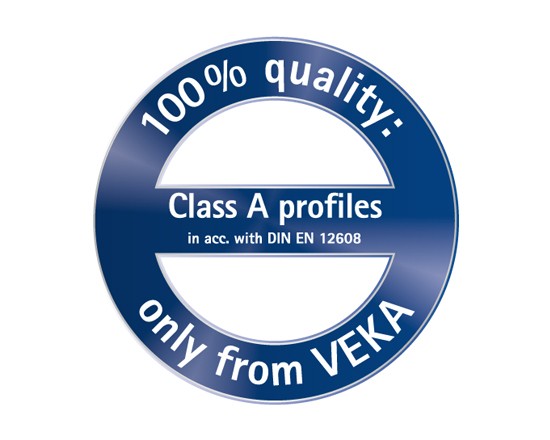 Quality is not an end in itself, but the guarantor of maximum planning freedom and safe processing. That is why VEKA tests more strictly and more closely than required by the quality assurance.
VEKA
Number of measuring points: 20
Tolerance profile height: 0.3 mm
Tolerance profile depth: 0.2 mm
Test cycle: 2 h
RAL
Number of measuring points: 5
Tolerance profile height: 0.5 mm
Tolerance profile depth: 0.3 mm
Test cycle: 4 h
We would be happy to explain to you in a personal conversation the many advantages you benefit from with VEKA profile systems. Send us an e-mail or give us a call - we look forward to supporting you as a strong partner.