Windows are in an exposed position - literally: in addition to wind and weather, they are affected by a combination of a wide range of environmental influences, including soot and pollen, as well as sunlight. High-quality plastic windows are resistant to these influences, so they can be cleaned quickly and easily. Occasionally, a little extra effort is worthwhile for the long-term preservation of the excellent appearance and function. VEKAPRO cleaning and care products guarantee first-class results here.
Windows deserve some attention

So easy to clean windows

These means are not suitable!

Optics and function preserved in the long term

VEKAPRO: Only the best for PVC-U windows
Windows deserve some attention
The essential function of windows is to let light into the building. But they should not let in much else - otherwise the living room furniture or kitchen equipment would have to be kept permanently free of the same film that forms on patio furniture or cars parked in front of the house. Dust and soot, pollen, bird droppings, honeydew, other plant and animal droppings, air pollutants, UV radiation, precipitation and, of course, cold air: all these undesirable or even harmful environmental influences are reliably kept out by modern windows.
At the same time, windows fulfil an aesthetic function. They should visually enhance the facade through their colour and shape, perhaps even give it an individual touch. They can only do this if they remain as beautiful as on the first day in the long term, regardless of all environmental influences. PVC-U windows offer the advantage that dirt particles or fungal spores can hardly adhere to the hard, smooth surface of the frame anyway - without the need for a protective coating, as is the case with wooden windows, for example.
Fortunately, the most important maintenance measure for your windows is also the simplest: regular cleaning. All that is needed is a clean, soft cloth and some lukewarm water to wipe the window profiles with. If necessary, you can also add a little neutral cleaner. In this case - or if the window panes were also cleaned at the same time - the frame should then be rinsed again with clean water.
In this way, not only is the immaculate appearance of the windows restored in no time at all. It also avoids potentially permanent changes to the profile surface, as can be caused by certain external influences. These include, above all, sunscreen and mineral fertilizer dust: if such substances have gotten onto the frames of PVC-U windows, you should clean the windows immediately as a precaution.
These means are not suitable!
Well meant is not always well done. This also applies to window cleaning. Scouring powders, pot cleaners or brushes are taboo when cleaning windows - regardless of whether the window frame is made of PVC-U, aluminium or wood. In addition, questionable or even harmful tips circulate on the Internet. These start with the use of household remedies such as tea, oven spray or toothpaste and extend to nail polish remover and other solvents or thinners. Unfortunately, damage caused by such unsuitable methods may only become apparent after some time.
For long-lasting beautiful vinyl windows, the following rules should be taken to heart:

Use clear water and a soft, clean cloth

Use only pH-neutral cleaners or cleaners recommended by the window manufacturer

Do not use aggressive agents

Do not use abrasive scouring pads, pot cleaners, etc.

Do not use a steam cleaner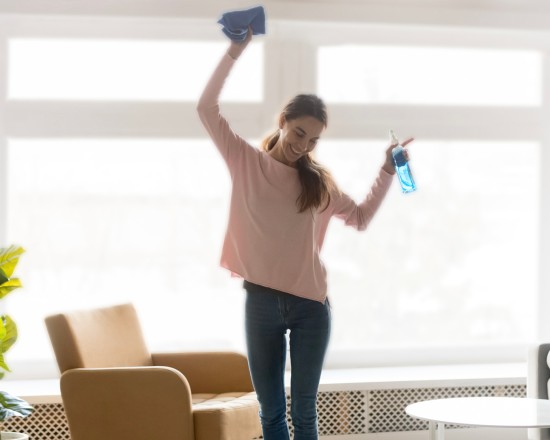 Optics and function preserved in the long term
Every now and then, the windows should be cared for a little more comprehensively and also maintained. This does not take very long, nor is it complicated - but the windows thank you beyond their beautiful appearance with perfect function and ease of use.
Stubborn dirt, as it can settle on the window frame even with regular cleaning, can be removed with an intensive cleaner. When choosing the agent, be sure to follow the recommendations of the window manufacturer. Important: Depending on whether the frame is laminated with a colour or decorative foil or not, different agents should be used. Unfoiled window profiles can then be sealed to provide additional protection against weathering and renewed soiling.
When the window sash is open, the window rebate between the sash and the frame can be easily cleaned with a vacuum cleaner to remove impurities such as dust, plant parts or dead insects. At this opportunity, the drainage openings in the frame can be checked for continuity. Any material stuck in them can be removed gently with a thin wooden stick, e.g. a toothpick.
To permanently keep out drafts and water, windows are equipped with high-quality, durable seals. They can be found on the rebate side of the frame and sash and with centre seal systems also in the middle of the frame as well as on both sides of the glazing. The application of a special gasket care keeps these gaskets supple so that they can perform their function perfectly on a permanent basis. At the same time, the appearance of the seals is refreshed.
Finally, the metal window fittings on the frame and sash deserve a little maintenance. The moving hardware parts in particular should be treated at least once a year with an acid- and resin-free grease or oil - a spray oil that reaches even hard-to-reach places is particularly practical here. In this way, the fittings remain smooth-running and function reliably for many years.
Only the best for PVC-U windows
To keep high-quality PVC-U windows as smooth-running and beautiful as on the first day, the special cleaners and care products from the VEKAPRO range are recommended. Carefully coordinated and also available as practical sets, the products guarantee perfect results for all window care.
You can find detailed information about the VEKAPRO care range on the perfect-window .eu website .