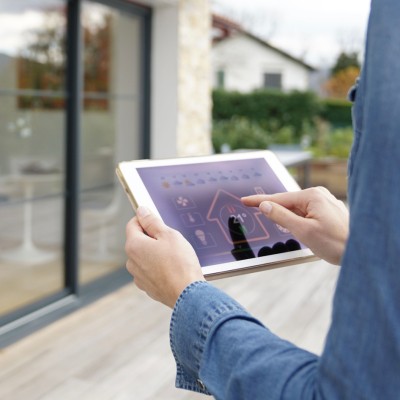 Smart Home: Window specialists in demand!
What began decades ago as building automation is now finding its way into more and more households under the buzzword "smart home". In addition to the potential gains in energy efficiency, living comfort and security, the trend is also rooted in the easy-to-install technology. However, it is still true that for a smart home system to develop its full potential, it needs the technical know-how of experts - especially with regard to windows and doors. VEKA partners benefit here from comprehensive support and the sophisticated TEXINO smart home system.
Smart Home: The trend continues

Building automation on a new level

A simple concept

Multiple benefits

Profit from the trend with TEXINO
Smart Home: The trend continues
The number of private houses and apartments in which smart home systems are installed is growing steadily. In a survey conducted by the IT and communications technology association Bitkom, 41 percent of participants most recently stated that they use networked devices in their homes. The robust growth of around 5 percentage points per year has thus continued, making the smart home field a growth market with attractive opportunities - also for window fabricators.
At present, "smart" lamps and luminaires are the most common devices, with a prevalence of 29 percent. Networking here is often limited to connection to a smartphone app, which can be used to call up decorative colour and brightness scenarios. However, more sophisticated solutions, where craftsmen can apply their expertise, are also on the rise. For example, 13 percent of all respondents said they had networked roller shutters or awnings. This corresponds to around one third of all households with smart home technology. Smart heating systems and thermostats are used with similar frequency.
Building automation on a new level
With the success of smart home technology in the private sector, building automation is being elevated to a new level of development. For a long time, the focus was primarily on large, commercially used or public new buildings. This was partly due to the fact that the complex installation of wired technology could only be carried out by specialists.
The advent of the Internet, energy-saving wireless protocols and, not least, powerful smartphones has changed the situation so that simple smart home systems can now be easily set up by private individuals - typically as an upgrade to existing home or household technology. However, as soon as it comes to powerful systems with a large number of components, professional planning and implementation by skilled craftsmen is required.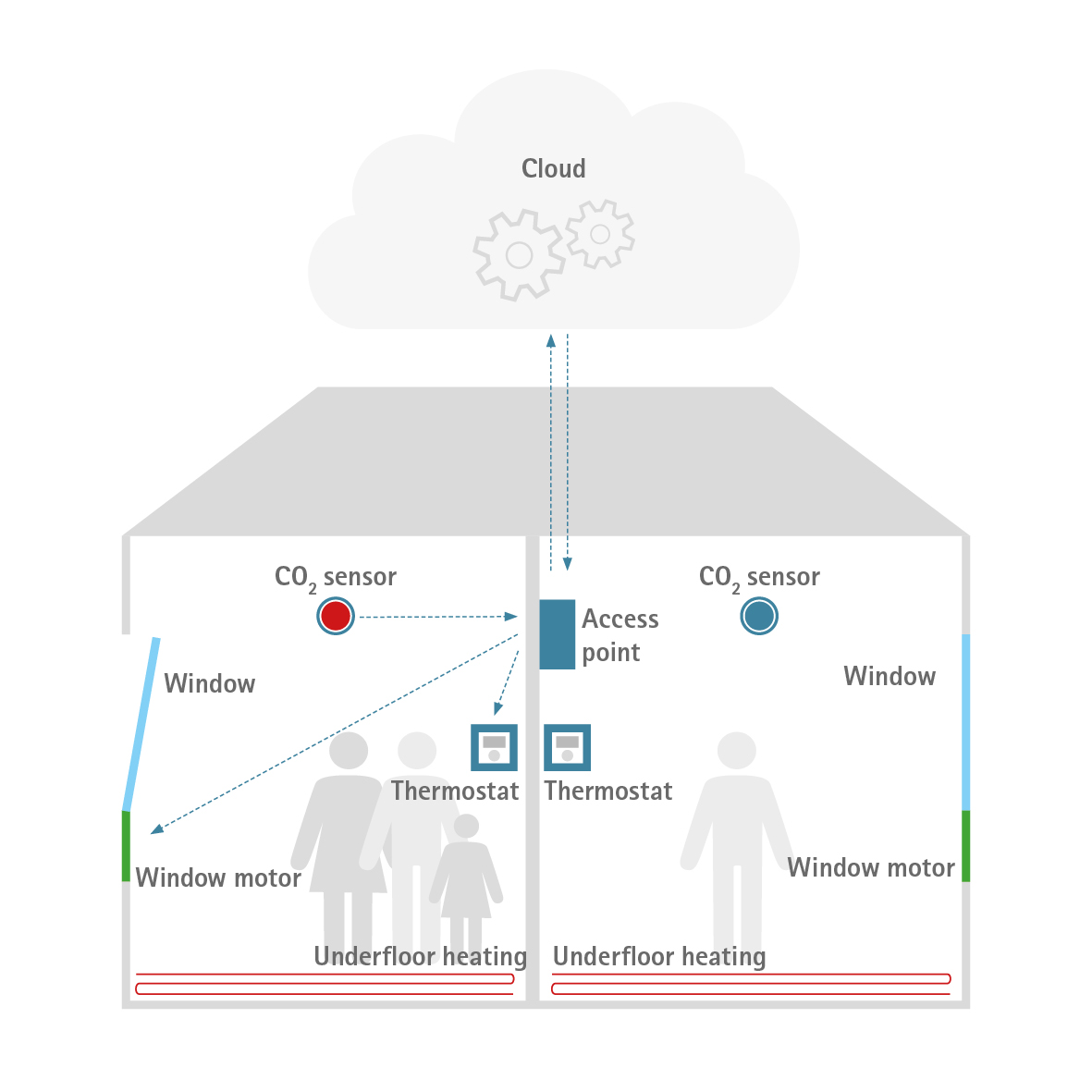 Example of a smart home system with individual room control of indoor air quality and heating: As soon as a CO
2
sensor reports that the threshold value has been exceeded, the windows in this room are moved to the tilt position and the thermostat there is turned down. Once the desired air quality is achieved, the system restores the initial state.
A smart home is a home that, in a sense, thinks and reacts. To be able to perform these functions, it only needs a few basic types of components. In a particularly beginner-friendly smart home system such as TEXINO from VEKA, a sensor (e.g. CO2 sensor ) and an actuator (e.g. tilt and turn window drive) that communicate with each other are already sufficient . So if the CO2 content of the room air increases , the sensor could directly instruct the motor to open the window sash.
As a rule, however, an access point is added: as a central node, it networks all system components into a powerful whole and also establishes the connection to the system's cloud. This can be conveniently programmed via a web interface so that more sophisticated if-then scenarios can be created. For example, data from other sensors, the time of day or the possible absence of the occupants can also be taken into account. Other modules include operating elements (e.g. wall pushbuttons) and power supply units.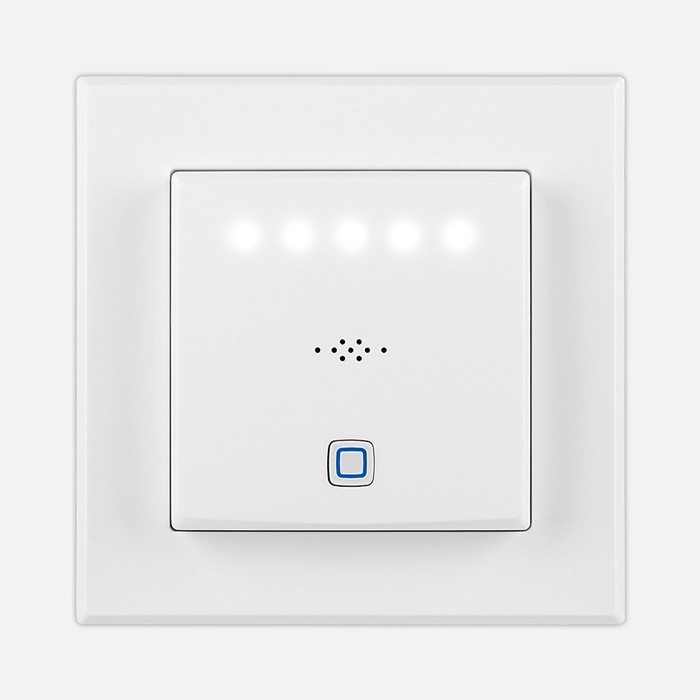 Record the condition of the building and all components
Examples:
CO sensor

2

Window/door contact

Temperature sensor

Motion detector

Humidity sensor

Smoke/Fire Detector

Brightness sensor
At the beginning of the smart home boom in private households, the systems often served to satisfy the curiosity of owners who were very interested in technology. Today, however, the focus for the majority of users is on measurable benefits. This applies to retrofitted solutions as well as to systems planned by architects and integrated practically invisibly into the building during construction. Essentially, it's about gains in energy efficiency, comfort and safety.
Example: Reducing energy consumption
Designed and installed with expertise, even a simple smart home system can save a lot of heating energy, namely a remarkable 31 %. This value was achieved at a vocational school in Leer. Under the leadership of the supplier eQ-3, one of two school buildings was equipped with window contacts and smart radiator thermostats, so that opening a window in one room automatically lowered the set temperature. The other building remained unchanged; the heating energy demand from October 2021 to January 2022 was compared.
Example: Improving indoor climate and comfort
An estimated one in four employees now works in a home office. The indoor air quality there sometimes leaves much to be desired - if you leave the room briefly after a long period of work, you often open the window when you return. Permanently favourable conditions are made possible by a smart home system that records factors such as relative humidity and CO content and opens the windows slightly when necessary.
Example: Gaining security
Before leaving the house, windows and exterior doors should be locked, especially when starting a trip. Usually, that means a checking tour of the house, and even then, doubts often arise along the way. Smart window and door contacts allow the entire house to be locked via smartphone, plus this status can be checked at any time while on the road. Smart home systems can also increase security in other respects: 23 and 21% of respondents in the Bitkom study said they used smart video surveillance solutions or alarm systems.
Profit from the trend with TEXINO
VEKA has accompanied the development of smart home technology from the very beginning. In order to provide window fabricators with an uncomplicated entry into this attractive market segment, all building automation activities have been bundled under the TEXINO brand. In addition, the system provider has entered into an exclusive cooperation with the European smart home market leader eQ-3. Its Homematic IP platform is already established on the market and comprises a large number of components including the associated communication protocols.
As part of this cooperation, VEKA has greatly expanded its existing product range and developed it into a modern complete smart home system. The high performance goes hand in hand with a high level of security, because the platform is currently the only smart home solution whose protocol, IT and data security has been certified by the VDE. All data is processed on servers in Germany, without it being possible to draw conclusions about the users.
All TEXINO products are designed for use with window and door systems from VEKA. Window fabricators also benefit from comprehensive support from the system provider. VEKA remains their contact in all matters and offers thorough product training at the specialist company on site.
In addition to the high level of security, the smart home system from TEXINO is characterized by its uncomplicated installation. It can be expanded with additional functions at any time and is compatible with devices and services from other manufacturers, such as the well-known voice assistants Amazon Alexa and Google Assistant.