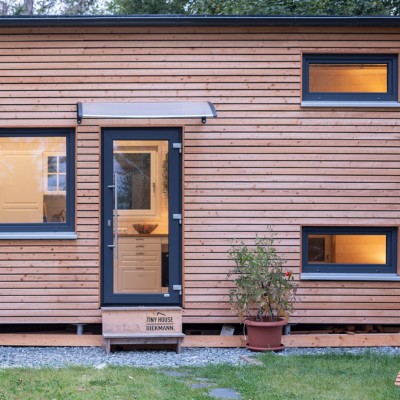 Tiny House in the Fichtel Mountains
Mobile concept becomes a bit more sedentary
The Tiny House movement is picking up speed. The initiators of the Tiny House Village in the Fichtelgebirge region are also taking this into account with optimized designs. Their new house model, working title "Børk," incorporates numerous practical insights into living in small spaces. For a comfortable home that is nevertheless consistently aligned with the principles of closeness to nature and ecology.
Mobility is an important aspect of Tiny Houses. But very few Tiny Houses are moved regularly. The new model is therefore no longer based on a chassis but on a steel frame. This means that it can still be moved by low-loader, but is no longer subject to the strict weight restrictions of a trailer of 3.5 tons.
The space gained was used for better thermal insulation of the walls with 16 cm jute and triple glazing. Polyurethane insulation boards 12 cm thick are used for the floor. They have a high insulating capacity and are less susceptible to moisture. Thus, a total of 1,000 watts of warm air convection heating is sufficient to ensure thermal comfort in any season. If green electricity is used, the Tiny House can ultimately be used in a climate-neutral manner.
Ecological considerations also found their way into the layout of the room: unlike usual, the sleeping accommodation is arranged at ground level, while the living area is located on a 110 cm high gallery. In this way, the natural heat distribution corresponds to the functional areas and the house can be heated more economically.
Developed as a prototype, Børk has already been rebuilt by interested parties in just six days as part of a workshop. If demand continues, Philipp Sanders and his colleagues from Tiny House Village are already thinking about offering the house as a kit.

More floor space for stronger wall insulation
The interior dimensions of the new house differ only slightly from the usual dimensions for a Tiny House. The larger footprint was used mainly for the stronger wall insulation. To make the interior bright and natural, the walls were paneled with white glazed wood from the inside. For the floor, it became apparent that the construction should be better protected from water. Therefore, a bio-vinyl with Canyon Oak decor is used here.
Tiny House in the Fichtel Mountains