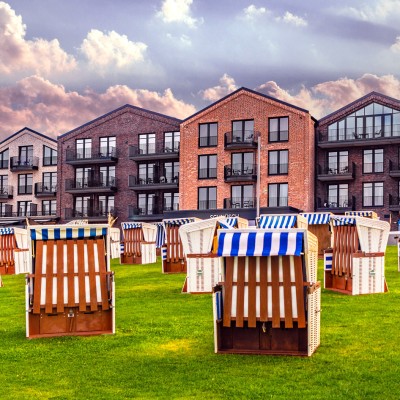 Lighthouse Hotel & Spa in Büsum
TRADITIONAL LOOK & FEEL, ULTRA-MODERN EXECUTION
Right next to the 100-year-old lighthouse - between the museum harbour and the dike promenade - is the Lighthouse Spa & Hotel in Büsum. The building houses 111 rooms and suites, a wellness area and three restaurants. The design of the hotel complex picks up on the traditional architecture of the regionally common harbour houses. The building's design is correspondingly small-scale and heterogeneous.
The organic, grown-looking character of the building is consistently continued in the interior. Each of the three restaurants and all 19 suites was developed with different cooperation partners and is characterized by an independent interior architectural style. From this conceptual approach, extensive requirements were derived for the optical properties, formats and functional equipment of the windows used. In addition, the unique location of the new building directly on the dike not only provides guests with breathtaking views of the open sea - the wind also hits the building envelope unchecked.
To meet the high visual and physical requirements, the entire complex was equipped with windows made of VEKA SOFTLINE 82 profiles. Here, additional steel reinforcements and more strikers and locking points than usual were inserted into the profiles. Thus, the window system can compensate for an additional load of 50%.
In terms of design, the VEKA SPECTRAL surface finish is used in the Lighthouse Hotel & Spa. It offers the possibility of transferring the interior design principle to the windows in terms of colour as well - individually for each room. The high-quality feel and the easy-care, extremely matt texture of the surface are made to support the traditional maritime coziness of the house. The selection of suitable hardware was made in close coordination between VEKA, the hardware manufacturer ROTO, and the executing window fabricator HARDER.

Reliable comfort in the harsh marine climate
To ensure reliable comfort in the harsh marine climate, the sealing levels were made stronger and the installation was carried out in such a way that the window elements were installed in front of the facing brick. The sealing level was then clad with clinker bricks, creating a visually and energetically perfect building envelope. In combination with the high-quality 6-chamber geometry, the guests of the Lighthouse Hotel & Spa enjoy maximum comfort, effective sound insulation and protection against wind and driving rain even on stormy days.
Lighthouse Hotel & Spa in Büsum