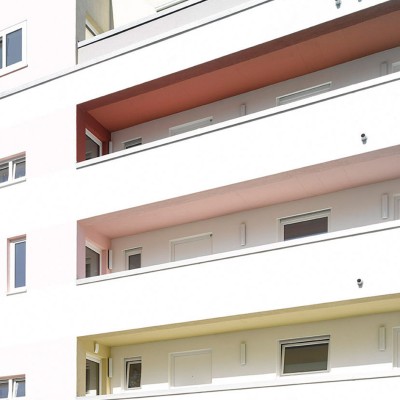 Award-winning residential construction in Münster
New housing development in the southern quarter wins NRW state prize
St. Sebastian's Church in Münster's southern quarter dates back to the early 1960s. Since 2013, the oval building, which has since been profaned, has housed a daycare centre for children. As part of the further development of the neighbourhood, the development of the surrounding land was put out to tender in an architectural and investor competition.
The winning design by local architects Bolles+Wilson is a modern residential block with a total of 28 condominiums and 25 rental apartments based on the striking shape of the former church building. The result is a sophisticated and at the same time livable habitat, which convinces with its loosened facade design and surprising choice of materials. The structural quality of the spacious, functional floor plans and the well thought-out overall concept, which is geared to a quiet living environment in the interior of the neighbourhood, were recognized in 2017 with the NRW State Award for Good Building.

Functionality and economy coordinated
The 3- to 5-story new building offers 4,325 m² of living space for 28 condominiums and 25 rental apartments - some of which were subsidized by the public sector. Accordingly, the challenge for architects and planners was to harmonize economic efficiency and functionality well.
In order to be able to implement the planned sophisticated architecture for subsidized housing, materials had to be selected that, for example, also allow the construction of the concave and convex curved building parts with simple means. External thermal insulation composite systems, for example, allow the formation of curves without additional design work. The VEKA SOFTLINE 82 profile system supports the freedom of design, as it adapts to the requirements of the project thanks to its excellent properties and ideal cost-effectiveness. Therefore, the decision was obvious to rely on quality profiles from VEKA for the apartment entrance doors in addition to the windows and balcony doors.
New residential construction in Münster